Business
How to Choose the Right VoIP Service for Your Business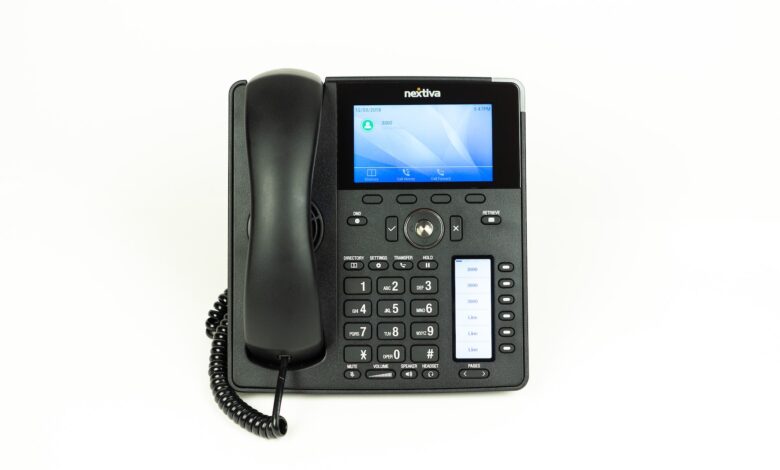 When it comes to choosing a VoIP service, there are a lot of factors to consider. Knowing which is right for your business can be challenging with so many different services. This guide will list the essential features to look for in a VoIP service and how they can benefit your company.
What Are VoIP Services?
VoIP services are a relatively recent addition to telecommunications, but they've quickly become an essential part of it. VoIP stands for "Voice over Internet Protocol," which means that you can use these services to make and receive phone calls over the internet. You don't need any special equipment or software. All you need is a computer with an internet connection, which many people already have.
Communication with customers is an integral part of any business. In the TCN Consumer Survey, 69% of respondents said they prefer talking to a live agent over other contact methods with a company's customer service department.
You may wonder why someone would use VoIP instead of traditional landlines or cellular phones. There are several benefits to choosing this option:
Some VoIP providers offer virtual numbers that allow you to receive calls from anyone in the country, even if that person isn't located near your business. This makes it easier for clients and customers because they don't have as much trouble reaching out when there aren't any other local options.
Because VoIP uses data rather than voice signals sent over traditional networks like cable television lines or radio waves (like cellular networks), service providers can offer lower rates than those found on conventional plans.
What to Look for When Choosing a VoIP Service
VoIP service offers various benefits. But what you achieve by implementing VoIP largely depends on your service provider. Hence, you must select the best VoIP provider for your business to get optimal results. You can consider the following factors while choosing the VoIP service provider to ensure that you are selecting the right one for your business.
Mobile solutions
Many people are turning to mobile phones for their work calls. Valuates Reports predicts that this trend will drive the need for unified communications systems by 2023. Mobile app solutions are the perfect way to stay connected on the go, and you must check if your provider can give you this option. You can take your business with you and make calls from anywhere. With these apps, employees can take calls on their smartphones or tablets.
When calling from your mobile app, your customer will see your business number, not your personal cell phone number. This helps foster trust between your business and clients and ensures that customers aren't confused about where they are being transferred or if your company actually employs the person they're speaking with.
The best part? You'll have access to a wide range of features, including:
Call forwarding
Call recording
Conference calling
Security Features
VoIP is a great way to save money on business phone service, but it's not without its risks. You must be careful when selecting a provider because several things can go wrong with VoIP technology. According to the 2021 Microsoft Digital Defense Report, the U.S. was targeted by 46% of all cyberattacks in 2020, more than twice that of any other country.
The first thing to look for in a VoIP provider is whether they offer encrypted, authentic, and highly secure systems. You don't want your data compromised by hackers or other malicious actors.
Next, ensure the provider provides redundancy and failover options for your VoIP system so that if one part of the system is damaged or compromised, it doesn't take down the entire system.
Data Backup
Business data and customer details are essential. If you're using a phone system to store customer information, ensure you'll be able to access it if something goes wrong with your service provider.
You should also consider whether or not the service provider offers backup solutions in case their servers go down or are inaccessible for any other reason. If the power goes out in your office or there's some other type of disaster, your VoIP provider must have an alternative way to communicate with customers and employees.
If you don't have a backup plan, your business could lose thousands of dollars in sales, productivity, and irreplaceable customer information.
Third-Party Integration
According to statistics, 91% of companies with 10 or more employees use an enterprise customer relationship management system. Third-party integration is the ability to use other applications with your VoIP service. This can be very useful, as you may already have a CRM or accounting software that works well for your business and would like to integrate with VoIP so that it all syncs up.
Technical Support
In addition to the standard support protocols (phone, email, and chat), VoIP providers often offer additional ways to connect. Some companies offer 24/7 live chat support, which allows you to get help anytime or at night. Others provide a phone number for technical assistance after hours or on weekends. In addition, many service providers offer a remote access feature that lets you connect directly with an engineer and resolve issues yourself.
Pricing
Pricing is essential when choosing a VoIP service for your business. Startupanz found that small businesses can reduce startup costs by up to 90% when using VoIP. This is because VoIP service providers often offer lower rates than traditional phone carriers. However, the cost of a VoIP plan may vary depending on your specific needs.
Look for providers that offer free trials and discounts to new customers. If you want to ensure that the provider's monthly fee works with your budget, compare their pricing with competitors in your area. Depending on their features and services, some services charge more than others, so make sure you find one that offers the features you need at a price that works for you.
Conclusion
Hopefully, this guide has helped you make an informed choice when choosing the right VoIP service provider for your business. The most important thing to remember is to select a provider with all the needed features. The best way to evaluate this is to call and ask questions about each provider's features, reliability, scalability, and cost.
If you're not satisfied with the answers, look elsewhere. Look for a provider that offers what you need without overstating their offerings or charging for things you won't use, like toll-free numbers or international calling plans when your company doesn't have any customers outside the United States.