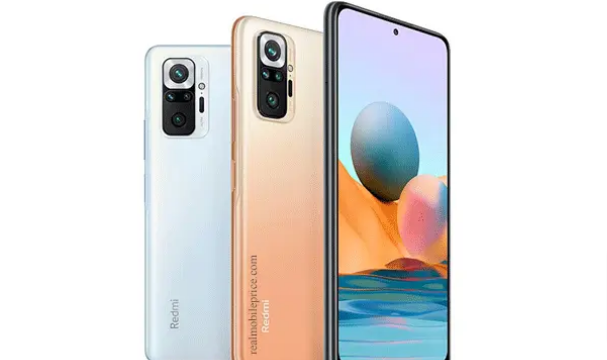 Introducing the Redmi Note 10 – a smartphone that will redefine your mobile experience! Packed with cutting-edge features and an affordable price tag, this device is set to take Bangladesh by storm. Whether you're a photography enthusiast, gaming addict, or simply someone who demands high performance from their phone, the Redmi Note 10 has got you covered. Get ready to explore the world of limitless possibilities as we dive into the details of this incredible device. So without further ado, let's delve into what makes the Redmi Note 10 truly special!
Display and configuration
The display and configuration of the Redmi Note 10 are impressive, making it a great smartphone option for users in Bangladesh. The device features a large 6.43-inch Super AMOLED display that offers vibrant colors and sharp visuals, ensuring an immersive viewing experience for multimedia content.

In terms of configuration, the Redmi Note 10 is powered by Qualcomm's Snapdragon 678 processor, which delivers smooth performance while multitasking or running demanding apps. It also comes with up to 6GB of RAM, allowing for seamless switching between apps and efficient overall performance.

The phone runs on MIUI based on Android 11, providing a user-friendly interface with various customization options. Additionally, it supports expandable storage via a dedicated microSD card slot, so you can easily store all your files without worrying about running out of space.

The combination of a stunning display and powerful configuration makes the Redmi Note 10 an excellent choice for those who prioritize visual quality and smooth performance in their smartphones. Whether you enjoy watching videos or playing games, this device will surely enhance your digital experience.
Camera and storage
The Redmi Note 10 comes equipped with a powerful camera setup that allows you to capture stunning photos and videos. It features a quad-camera system on the rear, including a 48MP primary sensor, an 8MP ultra-wide-angle lens, a macro lens, and a depth sensor. This versatile setup enables you to take high-resolution shots in various scenarios.

With its impressive storage capacity of up to 128GB, the Redmi Note 10 provides ample space for all your files and media. Whether you love taking lots of photos or have a vast collection of music and videos, this smartphone has got you covered. And if that's not enough, the device also supports expandable storage via microSD card slot.

In terms of performance, the Redmi Note 10 excels thanks to its powerful Snapdragon processor and generous RAM options. You can smoothly multitask between apps without any lag or slowdowns. Additionally, MIUI software enhances your overall experience by providing intuitive navigation and customizable settings.

The Redmi Note 10 offers excellent camera capabilities along with ample storage space for all your needs. Whether you're an avid photographer or simply love capturing moments on-the-go, this smartphone is sure to impress!
Battery and connectivity


One of the key features that makes the Redmi Note 10 stand out is its impressive battery life. With a massive 5,000mAh battery capacity, you can enjoy using your phone for hours without worrying about running out of power. Whether you're streaming videos, playing games, or browsing social media, the Redmi Note 10 has got you covered.

In addition to its long-lasting battery life, this smartphone also offers fast charging capabilities. With support for 33W fast charging, you can quickly top up your device and get back to using it in no time.

When it comes to connectivity options, the Redmi Note 10 doesn't disappoint either. It supports dual SIM functionality which allows you to use two different numbers on one device. This is especially convenient for those who want to separate their personal and professional lives.

Furthermore, the Redmi Note 10 supports various connectivity options including Wi-Fi ac/b/g/n standards and Bluetooth v5.0. You can easily connect to wireless networks and pair your smartphone with other devices such as headphones or speakers.

The Redmi Note 10's battery life and connectivity features make it a reliable choice for users who are constantly on-the-go and need a phone that can keep up with their needs.
Price in Bangladesh


When it comes to purchasing a new smartphone, one of the key factors that we consider is its price. The Redmi Note 10, with its impressive features and specifications, offers great value for money. In Bangladesh, you can get your hands on this device at an affordable price.

The Redmi Note 10 comes in different variants, each offering distinct features and storage options. The prices may vary depending on the variant you choose. However, rest assured that all models provide excellent performance and user experience.

Considering its powerful Snapdragon processor, stunning display quality, and versatile camera setup, the Redmi Note 10 is reasonably priced compared to other smartphones in its class. Whether you are a gamer or someone who enjoys capturing beautiful moments through photography or videography, this device will not disappoint you.

If budget-friendliness is important to you but compromising on quality is not an option, then the Redmi Note 10 should be at the top of your list when searching for a new smartphone in Bangladesh. With its attractive price point and outstanding features, it offers incredible value for money.
Verdict


After analyzing the features and specifications of the Redmi Note 10, it is clear that Xiaomi has once again delivered a smartphone that offers excellent value for money. With its stunning display, powerful processor, impressive camera capabilities, and long-lasting battery life, the Redmi Note 10 is definitely a device worth considering.

The device's AMOLED display provides vibrant colors and sharp visuals, making it perfect for multimedia consumption. Whether you enjoy watching movies or playing games, the Redmi Note 10 will provide an immersive experience.

In terms of performance, the Qualcomm Snapdragon processor ensures smooth multitasking and lag-free gaming. Combined with ample RAM and storage options, users can expect a seamless user experience even when running demanding apps or storing large files.

Photography enthusiasts will appreciate the versatile quad-camera setup on the Redmi Note 10. From capturing detailed landscapes to taking stunning portraits with depth-of-field effects, this smartphone delivers impressive results in various lighting conditions.

Furthermore, the device's generous battery capacity ensures all-day usage without worrying about running out of power. And with fast charging support included in the package, you can quickly recharge your phone whenever needed.

Connectivity-wise, you get all essential features such as dual SIM support, 4G VoLTE compatibility along with Wi-Fi and Bluetooth connectivity options.

Now let's talk about what everyone wants to know – The price! The Redmi Note 10 comes at an affordable price point which makes it accessible to a wide range of consumers in Bangladesh. It offers great value for money compared to other smartphones available in this segment.

To sum it up,the Redmi Note 10 impresses on multiple fronts – be it design aesthetics or internal hardware configuration.

The combination of solid build quality,durable battery backup,and robust internal hardware make this handset one of Xiaomi's best offerings so far.

So if you are looking for a reliable smartphone packed with exciting features at an attractive price point,the Redmi Note 10 is definitely worth considering.