Construction
How to Choose the Best Aerial Equipment Rental for Your Needs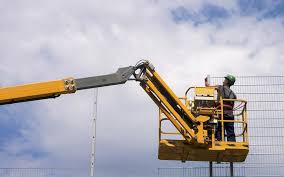 When it comes to aerial work, having the right equipment can make all the difference. Whether working on a construction site or completing a home renovation project, choosing the best Aerial Access equipment rental can help you get the job done safely and efficiently. Here are some tips to help you choose the right aerial equipment rental for your needs.
Consider Your Project Requirements
Before you start looking for aerial equipment rental options, it's essential to consider your project requirements. What type of task will you perform? What height do you need to reach? How much weight will you be lifting? Having a clear understanding of your project requirements will help you narrow down your options and choose the best aerial equipment for the job.
Evaluate Safety Features
Safety should always be a top priority when working with aerial equipment. Make sure to evaluate the safety features of any rental equipment you're considering. Look for features like anti-slip platforms, guardrails, and fall arrest systems. Make sure the equipment is regularly inspected and well-maintained to ensure safe operation.
Choose the Right Type of Aerial Equipment
There are a variety of different types of aerial equipment available for rent, including scissor lifts, boom lifts, and scaffolding. As each type of equipment possesses its exclusive advantages and disadvantages, it is crucial to opt for the suitable equipment type for your project. Scissor lifts are great for indoor projects and can reach up to 50 feet in height. Boom lifts are ideal for outdoor work and can reach heights of up to 185 feet. Scaffolding is a versatile option that can be customized to fit your specific project needs.
Consider Rental Prices and Terms
Cost is always a factor when renting aerial equipment. Make sure to compare rental prices and terms from different rental companies to get the best deal. Look for rental companies that offer flexible rental terms and competitive pricing. Don't forget to factor in delivery and pickup fees, as well as any additional charges for fuel or maintenance.
Check Rental Company Reputation
Selecting the appropriate rental company is equally crucial to choosing the appropriate equipment. Make sure to check the reputation of any rental company you're considering. Look for reviews from past customers and ask for references. Choose a rental company with a reputation for quality equipment and excellent customer service.
Evaluate Availability and Accessibility
Make sure the rental equipment you need is available when you need it. Check the availability of rental equipment before making a reservation to ensure it will be available for your project timeframe. Also, consider the accessibility of the rental equipment. Will the equipment be able to fit through doorways or into tight spaces? Make sure to measure the space where the equipment will be used to ensure it will fit.
Conclusion
Choosing the right aerial equipment rental is crucial for the success of your project. Consider your project requirements, evaluate safety features, choose the right type of equipment, compare rental prices and terms, check the rental company's reputation, and evaluate availability and accessibility. By following these tips, you can ensure you choose the best aerial equipment rental for your needs.
Read More: 3 Reasons to Treat Your Savings Like a Bill