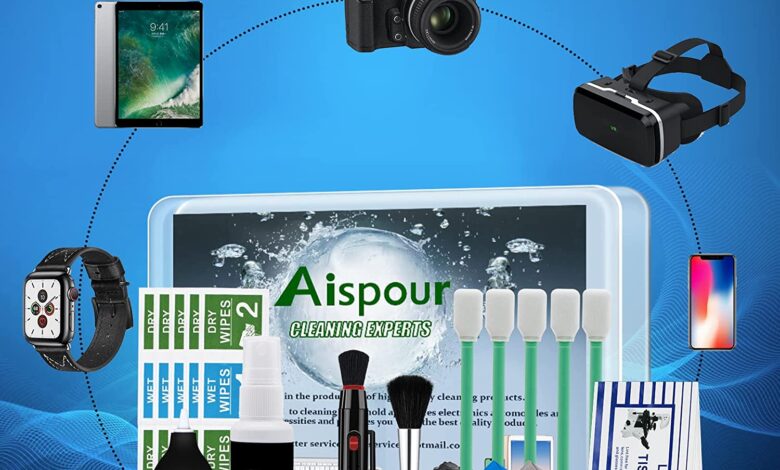 A camera lens cleaning kit can help you keep your lens clean and in top shape. It contains a microfiber cloth, cotton swabs, cleaning solution, and a brush. It's important to know exactly what each item in your kit does before cleaning your camera's lens. In this article, we'll discuss the different tools in a camera lens cleaning kit and how to use them properly. This will prevent any future damage to your lens and improve its life.
Microfiber cloth
A microfiber cloth camera lens cleaning kit is a handy way to clean your camera lens. It consists of several small cloths and swabs, as well as a protective carrying case. You can use these to clean all types of optics, including lenses, digital cameras, and DSLRs. They are easy to use and clean, and are relatively inexpensive. They also come with detailed instructions for cleaning. However, the cleaning solution included in the kit may not be the most effective, and the cleaning cloth is not designed for high-quality SLR lenses.
You should use alcohol-free cleaning fluid to thoroughly clean your camera lens. This is important because many other cleaning solutions contain abrasive materials that can damage the lens. Ensure that you use certified camera lens cleaning solutions to prevent any damage to your lens. The cleaning solution should be sprayed onto a microfiber cloth or tissue before using. It should be applied in a circular motion to avoid scratching the optics.
A microfiber cloth is made of super soft material, making it safe to use on any type of optic or electronic device. Unlike traditional cleaning fluids, microfiber cloths will leave no marks or scratches. A microfiber cloth will also help remove fingerprints and oil from the surface of your camera lens.
Microfiber cloths are also useful for cleaning many surfaces. They can be used to clean eyewear and other surfaces, such as stainless steel and chrome. You can even use them to clean your binoculars and telescopes.
Cotton swabs
If you have a camera that requires cleaning, cotton swabs are a great option. They are easier to find in your bathroom and are less likely to scratch the lens. Just remember to always use a soft swab, because hard swabs can scratch delicate surfaces.
These swabs are also excellent for cleaning camera lens mounts. To use them, soak a cotton swab in lens cleaning solution and use a circular motion to clean the lens. You can also use a lens cleaning pen, which has a triangular or circular cleaning pad.
Another great benefit of using cotton swabs for camera lens cleaning is that they won't damage your camera's lens or viewfinder. These swabs are made of high-density cotton and have a pointed tip. They are also specially designed for electronics, making them ideal for cleaning camera controls and charging ports.
You can also use an air pressure washer, but it is difficult to control. Not only can you not keep the pressure on your lens while cleaning it, but the air can impinge on the surface. And, sometimes the freezing liquid in the air can damage the lens surface. Make sure to avoid using an air pressure washer when cleaning camera lenses.
Another option for camera lens cleaning is the use of microfiber cloths. These cloths are ideal for cleaning lenses and are also soft enough to remove dust. They can also be used as lens brushes. You can also use a lens pen that has a small circular or triangular pad, which is useful for cleaning the edge of the lens.
Many newer DSLRs have special cleaning functions. These can be found in the camera's Tools menu. Once you've located this feature, you can dip the swab into the cleaning solution and then shake off any excess liquid. But be careful, since the excess liquid will attack the cement between the bonded components of the lens.
Cleaning solution
When cleaning a camera lens, it's best to use a reagent-grade cleaning solution specifically made for camera lenses. This will ensure that the cleaning solution is safe for your lens and will not damage the optical coating. The solution should not contain glycerin or any other chemicals that could leave a filmy residue on the lens. You can also use fresh lens tissue or distilled water to clean your lens.
It is also recommended that you use a lens cleaning wipe to clean your lens. You can also use compressed air to remove any dirt or grease that may be stuck to the lens' surface. If you have a soft brush, you can use this to clean the lens without scratching the glass. Another option is to use a lens cleaning solution in conjunction with a microfiber cloth.
When cleaning a camera lens, you should avoid using any products that contain acetone, as this will damage the lens' anti-glare coating and may void your camera's warranty. Furthermore, the use of store-bought acetone can cause damage to the plastic or paint on the lens barrel. Also, avoid using canned air, which forces dust particles into the lens housing and could cause unwanted lens damage.
Another option is to use rice or silica bead packs to clean the lens. These are particularly effective if you live in humid areas. The best way to clean a camera lens is to follow the instructions on the bottle carefully. Make sure you do not put too much alcohol on the lens. Always apply a small amount to a soft lens tissue and then wipe the lens in a circular motion.
Avoid using canned air products for cleaning camera lenses, as they contain compressed gases that may damage the camera and the lens' coating. Also, don't use a nozzle-shaped lens brush, which can cause more damage to the lens. To avoid scratching your lens, use a soft bristle brush.
Brush
A camera lens cleaning kit contains several cleaning tools for your camera. These tools are useful for various purposes, such as cleaning dirty lenses and sensor. Some kits also include brushes and cloths. The brushes and cloths are made of soft materials, and are perfect for all kinds of optical lenses. They also come with a spray bottle that can be refilled with cleaning solution.
The cleaning solution is alcohol and ammonia-free. This means that it will not leave any residue or marks on your lens. You can also use the cleaning solution with a microfiber cloth, which can remove smudges and fingerprints. For better results, use 50% isopropyl alcohol.
Ideally, a camera lens cleaning kit should have all of the tools needed for lens cleaning. The kit should also come with a lens cover. All these tools should be kept in a sturdy carrying case. Keeping these cleaning supplies in one place will reduce the amount of time you need to spend juggling with cleaning tools.
Using a generic camera lens brush may scratch the coating of your lens. Make sure to use a brush made for lenses with a soft tip to avoid damaging the surface. Also, avoid touching the bristles of the brush with your fingers, as this can transfer oily residues to your lens. Do not use clothing or paper towels as they can leave fibers on your lens.
Having the right camera lens cleaning kit is essential for professional photographers. The best cleaning kits usually come in retail packaging and have a warranty. They usually come with a lens cloth, cleaning solution, and a blower brush. Some even include cotton swabs and microfiber cloths.
Compatible with all brands
Camera lens cleaning kits are a good way to keep your camera lens clean and clear. The best ones work with invisible carbon to absorb fingerprint oil and smudges without abrading the camera's surface. The cleaning solution comes in a spray bottle. Some kits also include lens wipes. Wipes are easy to use and disposable, but spray solutions are often more economical. Other kits have a lens pen, which is a retractable brush with a special tip to pick up oil.
Another useful tool is a carbon-cleaning pen. These are a great alternative to microfiber cloths, as they draw dirt out without wetting the lens. They can also be used to polish the lens with alcohol-free spray cleaner. These two tools are a great addition to any camera lens cleaning kit.
Lens cleaning pens use a reusable cleaning solution that contains non-liquid cleaning fluid and a reversible brush for removing fine dust and fingerprints. These pens also come with cleaning swabs and a cloth that can be used for general cleaning on the camera body.
A good camera lens cleaning kit should have a carrying case. A simple, convenient carrying case will protect your lens cleaning tools from dust and water. It will also make it convenient to carry around when traveling or photographing outdoors. If you don't need a carrying case, you can purchase one separately.
A camera lens cleaning kit should include a nozzle with a hose attachment for blowing away dust from sensitive parts. A retractable brush will also help with this task. Moreover, some kits have microfiber cloths that won't scratch delicate optics.